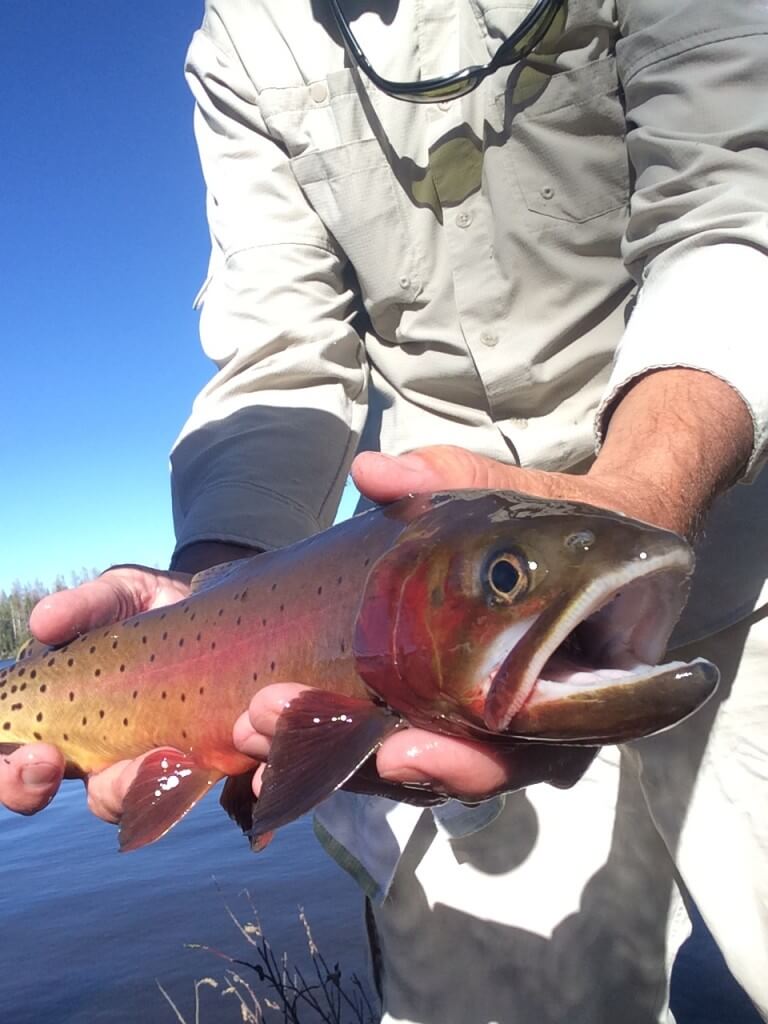 02 Jan

Fishing adventures and cutthroat conservation

By Scott Root (Conservation outreach manager)

THE UTAH CUTTHROAT SLAM has generated a lot of excitement for anglers since its 2016 introduction. The Slam challenges anglers to catch four different subspecies of native cutthroat trout within the state in designated waters of these trout.

The cost to participate is $20 for those over 18 years of age, and $10 for those younger than 18.

Anglers can sign up online at utahcutthroatslam.org, at any Division office or participating license agents.

Once you register and catch all four subspecies of cutthroat trout (Bear River, Bonneville, Colorado River and Yellowstone), provide photographic proof of your catch and the locations where you caught the fish, you will receive an official certification letter and a fancy medallion, recognizing both your angling skills and support of cutthroat trout conservation efforts.

Of the $20 registration fee, $19 goes right back toward conservation projects that benefit Utah's cutthroat trout. The four fish photos submitted by each angler are also posted on program's website (utahcutthroatslam.org). You can view photos of each angler's catch at this website, view photos of each subspecies, see a map of waters that hold each type of cutthroat trout, and more. This website is a great tool to help you complete the Slam.

By the way, don't hesitate to include your awesome face in the photos!

While promoting the program at the Wasatch Intermountain Fly Tying and Fly Fishing Expo this year, I was amazed at the interest and buzz surrounding the Slam. Many happy anglers praised the program and told me how they enjoyed the road trips to catch the subspecies. Some anglers tried their best to get all four subspecies in one or two days. Many phones were pulled out of angler's pockets to do a little bragging and share their photos and stories.

I was also happy to see that many children participated, too.

My favorite part of speaking with program participants was hearing how they mounted their letter and medallion. I heard about and saw photos of some very nice display creations. I also learned that many of the anglers completed the program twice so that they could earn two medallions and display each side.

The Utah Cutthroat Slam is providing funds for several upcoming projects. One project that I have been involved with is the Mill Creek cutthroat trout restoration project in Mill Creek Canyon in Salt Lake City.

The Division is working with many partners in this effort. U.S. Fish and Wildlife Service, Trout Unlimited, Pacific Corp, SLC legislators, Boy Scouts of America, private landowners and others are joining forces to remove non-native fish from Mill Creek, take out fish barriers and restock native Bonneville cutthroat trout to the creek.

Removal of fish barriers improves fish migration in the creek, which will provide a healthier setting for Bonneville cutthroat trout.

Another project that will be completed using Cutthroat Slam funds involves removal of the Porter Fork weir, which is a fish barrier in Mill Creek Canyon. Revenue from the Cutthroat Slam will be combined with grant money from the National Forest Foundation to remove the weir.

Mill Creek is now an important piece to restoring the Bonneville cutthroat trout population. As recently as the 1970s, Bonneville cutthroat trout were thought to be extinct. After small populations were discovered, many organizations have worked diligently to ensure expansion of our state fish.

Other projects funded with Utah Cutthroat Slam money include:
the installation of a sign at Temple Fork that educates the public about the status, life cycle and importance of Bonneville Cutthroat trout to the Logan River watershed,
the purchase of radio telemetry tags that will be used to study the movement of Bonneville cutthroat trout in the Weber River upstream of (a collaborative effort between USU and the UDWR), and
the reconstruction of the Sheep Creek cutthroat trap.
Participating in the Slam is a great way to help biologists with restoration efforts, challenge yourself as an angler, explore Utah and have a blast. It's is a win-win for anglers and fish alike — give it a try!