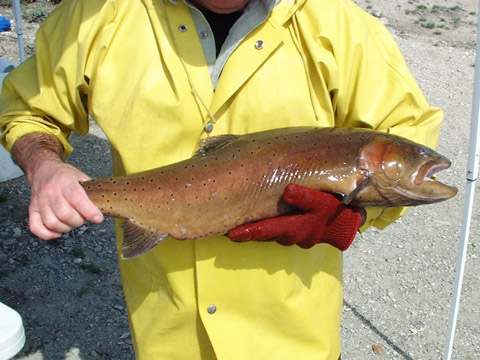 15 Mar

How Utah saved Lahontan Cutthroat Trout from Extinction

Though the Lahontan Cutthroat Trout isn't a native to Utah waters, and thus isn't included in the Utah Cutthroat Slam, as you can read about on our "OTHER CUTTHROAT TROUT IN UTAH" page, Utah played a critical role in bringing back the strain of Lahontans that once existed in Pyramid Lake, Nevada. Check out our page about them here, or watch this awesome video from KSL Outdoors!
"Nevada's Pyramid Lake is home to the giant Lahontan Cutthroat Trout. But just a few decades ago these fish were thought to be extinct. So how were Lahontan Cutthroats found in a tiny stream on a remote mountain in Utah? This is the incredible success story of a species that was brought back from the edge of extinction thanks to innovative biologists, a reclusive rancher, and a lucky stroke of fate."
You can also check out this more in-depth documentary about the story as well!
"The Pyramid Lake Lahontan Cutthroat Trout was declared extinct in the 1940's as a result of a badly planned diversion dam on the Truckee River. Built with no consideration of the downstream Indigenous Peoples of the Pyramid Lake Paiute Tribe and their cherished homeland, the dam desiccated the lake and destroyed the habitat of its native fish. However, the fish made a near impossible return, aided by the efforts of biologists, tribal litigators, and a carpenter.
This documentary was completed as part of a graduate study in media innovation at the University of Nevada, Reno. It premiered at the Wild and Scenic Film Festival in Nevada City, California in January of 2019."