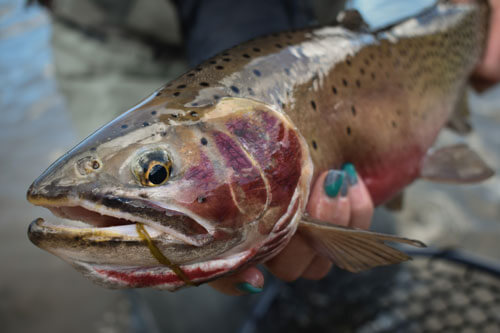 17 Oct

Orvis News Story: Discovering Utah Through the Cutthroat Slam

Original Story found HERE on Orvis News. Story by Aaron Smith.

I first heard about the Utah Cutthroat Slam—which requires anglers to catch all four of Utah's native cutthroat trout subspecies in their historic range—just days after it had been introduced. The Utah Division of Wildlife Resources and Trout Unlimited had partnered to create the Slam to help raise money and awareness for native cutthroat trout conservation efforts.
To be honest, although it sounded fun and was for a great cause, the idea didn't initially excite me. Little did I know that, on the morning we left to go fishing, somebody out there had created a new goal for me. And, by the end of the day, I would be going home with an even greater sense of accomplishment than just being able to catch a fish in that rapid, dirty, run-off.
Kevin and I headed to Utah's Logan Canyon, an area freckled with historic landmarks, unique caves, and a deeply pocketed river full of Bear River cutthroat trout. This part of Utah was completely new to me. A lot of areas of Utah were then, not to mention a lot of aspects of fly fishing too. It was early spring, so run-off was in full flow. Trees, fire pits, and picnic tables were nearly submerged, creating new eddies and pockets that provided refuge for trout. We quickly got our flies in the water, and it wasn't long before I reeled in my Bear River cutthroat trout on a black Woolly Bugger, a fly that would end up sticking with me until nearly the very end of my Slam and become a permanent resident in my fly box.
After experiencing Logan Canyon like this for the first time–and realizing that participating in the Utah Cutthroat Slam would force me to go to places I had never experienced before–the excitement truly kicked in. I wanted to be among the first people to complete it. So within a matter of days, I contacted Paul Thompson, the DWR's Northern Utah Aquatics Manager, trying to find info that would get me to my next native cutthroat. After some very thorough advice, a couple friends and I found ourselves in a very remote corner of Utah, late at night, in the rain, cutting away trees that had fallen across the road. We arrived at a creek that was so small that I wasn't even sure if we were at the right place. We set up camp despite the doubt, and ventured off in the morning with shaky confidence.
I'd like to tell you that this was a fruitful adventure, but it wasn't. We left that day with our heads hung in shame, and a desire to get as much advice as we could about this particular subspecies before traversing nearly four hours across the state again.
A couple of weeks later, I was back, and successfully checked off my Yellowstone cutthroat trout. If I hadn't failed so miserably that first time, I likely wouldn't have met some of the people I did on my quest for more information–names now frequently seen in my inbox and recently dialed list. In the end, a couple friends and I were able to complete our Utah Cutthroat Slam after just a handful of weeks.
Now more than 1,000 anglers have registered to participate in the Utah Cutthroat Slam, and more than 200 certificates of completion and medallions have been shipped out. Money raised from the program has helped fund six native-cutthroat conservation projects across Utah. I have completed it twice now, and I force myself to fish new waters each time. It has taken me to parts of Utah that I never would have thought to visit, and has played a pivotal role in the fisherman I am today.
Because I have enjoyed the experience so much and made so many new friends, the Utah Cutthroat Slam has quickly become one my favorite discussions to have with other anglers. I hope that my enthusiasm will help them explore new waters, reach exciting new fishing goals, and feel that extra sense of accomplishment ,too.
And who knows? Maybe they'll let me tag along, and I can complete it again.
Aaron Smith is an angler who lives in Murray, Utah. For more information on the Utah Cutthroat Slam, visit utahcutthroatslam.org, the website dedicated to the program.