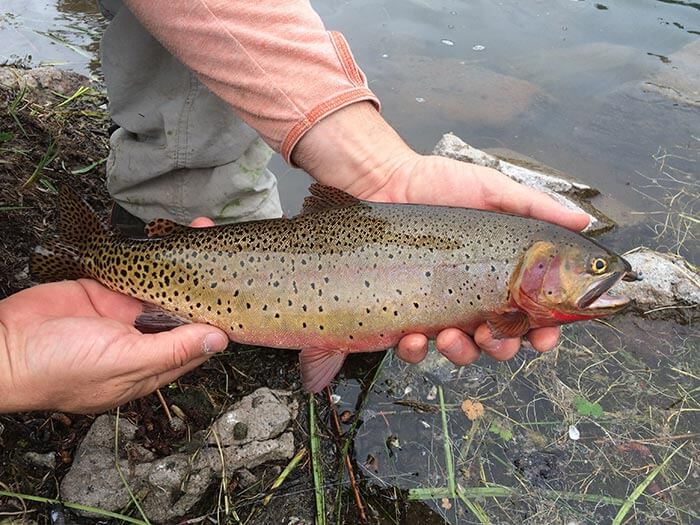 12 Aug

Orvis Slam Story, Days Five and Six: Oh, to Live on Boulder Mountain

Original Story found HERE on Orvis News. Story by Phil Monahan.

On our way to our final destination in our quest to complete the Utah Cutthroat Slam, we picked up Trout Unlimited's Intermountain Communications Director Brett Prettyman at his home in Salt Lake City. Our destination was the small town of Loa, some 200 miles to the south, where we were to meet Utah Division of Wildlife Resources fisheries biologist Mike Hadley and Jordan Nielson, TU's Price River Project Manager.

The long drive offered plenty of opportunity to get Brett's thoughts on the state of native cutthroats in Utah and the genesis of the Cutthroat Slam program. The idea had been kicking around within the Division for a while, but neither director Greg Sheehan nor Northern Region Aquatics Manager Paul Thompson could generate the internal excitement and political will to get the project off the ground.
When Brett—who had spent two decades as an outdoor columnist for the Salt Lake City Tribune—took on his new role with TU, Sheehan asked him to help sell the idea. Thus a unique partnership between the state agency and Trout Unlimited was born, and the Cutthroat Slam became a reality
When we met up with Mike and Jordan, our first stop was the Sunglow Café, where we ate lunch and partook of the restaurant's specialty—pickle pie. Apparently, it's famous in those parts, and I can recommend it.
Then it was time to head up on Boulder Mountain, an oasis of green surrounded by high desert and some of the nation's most spectacular landscapes. (You'll hear the region referred to variously as Boulder Mountain and the Boulder Mountains, but an informal poll of our group of Utahns suggested that the former is preferred.) As we headed up a series of dirt Forest Roads, we encountered more and more trees and greenery.
Because there are more than eighty fishable lakes on Boulder Mountain—including twenty that hold Colorado River cutthroats—Mike asked that we not name the specific waters that we fished. Luckily, the Division of Wildlife resources publishes "Fishing on Boulder Mountain," a guide to all the region's waters and the fish that live in them.
The first lake we visited was just a short hike from the trailhead, and conditions looked perfect: overcast skies, a slight breeze, and clear water. A beaver dam at the outlet provided a small, fishable stream, as well. But as is often the case, looks can be deceiving. An approaching storm front seemed to have given the trout a bad case of lockjaw, and we all fished various parts of the lake with no luck for the first hour or so. At one point, Brett and I were fishing from the beaver dam and watched a huge cutthroat lazily cruising just below the surface, but he could not be enticed by our offerings.
As I rummaged around in my fly box trying to find a solution, I unearthed a Soft Hackle ties on a heavy jig hook. I'm pretty sure that the pattern was left over from my trip to Slovenia two years ago and hadn't been in the water since. With a shrug, I tied it on, cast into the deepest part of the lake, and retrieved it with slow, short strips.
On my fourth or fifth cast a fish hammered the fly between strips, and the game was on. After a brief fight, I got my hand around the biggest fish of the trip and the one that would complete my Slam. Colorado River cutthroats are considerably darker, with richer colors, than the other species we had caught, and I marveled at the remarkable spotting pattern and the deep red throat slash. After Mike took a few quick snaps, I released the fish and received congratulations on my slam.
Once one fish came to hand, we assumed that others would follow, but that wasn't the case. Mike and Fred headed down to fish the stream above where it emptied into another lake, and that's where Fred completed his slam, as well. With skies threatening, we started to get ready to leave, but we were too late: rain poured hard on us all the way to the trucks.
We drove through the rain for about an hour and half, to the other side of Boulder Mountain, where we set up camp for the night at a campground surrounded by aspens and spruce at over 9,000 feet in elevation. Dinner was a celebratory affair, as both East Coasters had completed the slam, which was the main goal of the expedition.
The next morning, we hiked in to a pair of gorgeous lakes even higher up. The first featured clear water and the fishing was again pretty slow. We dropped down to the lower lake, which was experiencing some kind of algae bloom that made the water an almost opaque green. I didn't have much hope that it would produce fish, but I turned out to be wrong again. After a slow start, things turned on, and all of us landed nice cutthroats for about an hour. My magical jig produced several more fish, and both Fred and Jordan had good success with a hopper-dropper setup. Fred and I each landed our first-ever tiger trout, too.
As we drove off the mountain into the stark desert of the Box-Death Hollow Wilderness, Fred and I relived our week in Utah. We had seen some amazing parts of the state that even some residents haven't visited; fished for gorgeous native trout in their headwaters habitat; learned a lot about what it takes to keep habitat connected so that fluvial trout can thrive; and gained a new appreciation for the diversity of cutthroat subspecies. We didn't catch any trophy fish, as you would on the Green or the Provo, but it was an incredible and eye-opening experience.
Click here for more information about the Utah Cutthroat Slam.
Click here to read Part I.
Click here to read Part II.
Click here to read Part III.
Click here to read Part IV.