13 Nov

Stocking Cutthroat in San Juan County for the First Time – Protecting a Native "Green" Gem

By Hayden Cook

In a groundbreaking development, cutthroat trout have been stocked for the first time in San Juan County, marking a crucial step in the long-term conservation of native fish in Utah. Back in 2009, the Utah Division of Wildlife Resources (DWR) stumbled upon a small population of cutthroat trout in Beaver Creek, situated to the east of Moab in the La Sal Mountains. Astonishingly, these cutthroat trout occupied a mere 1.2-mile stretch of water, making their discovery a near miracle, but their situation was exceptionally precarious. Isolated populations like this one are highly vulnerable to threats such as drought, wildfire, disease, and the introduction of non-native species. Consequently, officials have been committed to expanding and safeguarding this population since its initial discovery.
Following the discovery of this population, samples were sent for identification, and it was initially believed that scientists had uncovered the rare Greenback cutthroat trout, a subspecies native to Colorado. The Greenback cutthroat's home range is located east of the Continental Divide in the South Platte River basin. This raised a perplexing question about how these fish had ended up hundreds of miles away in a random Utah creek. Regardless, scientists were elated to find that these cutthroat trout were pure and had been shielded from natural disasters and hybridization with non-native fish like rainbow trout for millennia.
However, with increased understanding in cutthroat taxonomy, and the use of modern DNA analysis, it has now been established that these "Utah Greenbacks" were not Greenback cutthroat after all. They turned out to be Colorado River cutthroat trout, one of the four native cutthroat subspecies in Utah, alongside the Bonneville, Bear River, and Yellowstone cutthroat trout. Nonetheless, this population of Colorado River cutthroat remains distinctive within Utah, being the sole Green Lineage Colorado River cutthroat in the state and the westernmost population of this lineage currently known.
Scientists currently classify the Colorado River cutthroat trout (CRCT) into three distinct lineages: the Blue Lineage, Green Lineage, and Red Lineage. The Blue Lineage CRCT (also known as the Green River cutthroat trout) is native to the Green, White, and Yampa River drainages, while the Green Lineage CRCT resides in the Colorado, Gunnison, and Dolores River drainages. The Red Lineage CRCT (also known as the San Juan cutthroat trout) is native to the San Juan River watershed. While these fish may appear similar to most anglers, molecular methods used by scientists reliably differentiate the three lineages. Evidence suggests that the Green and Blue Lineages diverged from each other approximately 1.2 to 1.7 million years ago, making each quite distinct from one another genetically. Scientists also have found that Green Lineage CRCTs are closer related to the San Juan, Rio Grande, and Greenback cutthroat subspecies than they are to their sister-clade of Blue Lineage Colorado River cutthroats. This revelation possibly explains how scientists in 2009 confused the Beaver Creek specimens with Greenback cutthroat. But it is important to note that the Green Lineage CRCT is at higher risk than most cutthroat subspecies due to it occupying only 3% of its historic range in both Colorado and Utah, making the preservation of the population near Moab of paramount importance.
Conservation efforts are time-consuming and resource-intensive, so after 14 years of work, Utah's DWR achieved a significant milestone by stocking native cutthroat trout in creeks beyond Beaver Creek. In an interview with Justin Hart, the Regional Aquatic Manager for Southeast Utah, he informed us that fish were collected in July 2021 from Beaver Creek for use as brood stock. The fish were then transported to the Fountain Green State Fish Hatchery where Hart says the cutthroats did incredibly well: feeding good, growing to large sizes, and ultimately producing thousands of eggs that could be harvested and raised for reintroduction.
The next challenge was deciding where to relocate these native cutthroat trout. Calvin Black, the DWR Assistant Aquatic Program Manager for Southeast Utah, played a key role in selecting the creeks that would become the new home for these Green Lineage CRCT. After using rotenone to remove non-native fish and clear the water, Black informed us that 2,200 fingerling fish were released on September 19, 2023 into La Sal Creek, and 1,100 more were stocked into Twomile Creek. Both creeks are located relatively near Beaver Creek on the southern side of the La Sal Mountains. These efforts expand the cutthroat's range by 14 miles, a significant improvement from their previous confined 1.2-mile habitat.
Future plans, according to Hart, include considering additional creeks for potential restoration, including those on the north side of the La Sal Mountains. Regardless of their relocation, the DWR's strategy involves periodic stocking of cutthroat trout until the new populations become self-sustaining with natural recruitment. This project aims to protect this unique subspecies by widening their range, making them less susceptible to the perils of natural disasters or adverse conditions. The hope is that these new populations will thrive, providing more opportunities for anglers to potentially catch Colorado River cutthroat trout in the stunning and remote part of Utah that is San Juan County.
For those aiming to complete the Utah Cutthroat Slam, the cutthroat trout in Beaver Creek, La Sal Creek, and Twomile Creek can all count toward the CRCT subspecies requirement. Do note that Beaver Creek still has special fishing regulations in place to protect this sensitive population. No possession of cutthroat trout is permitted, and all cutthroat must be released immediately from Beaver Creek. Additionally, only artificial flies and lures are allowed on Beaver Creek. However, general angling regulations will apply to La Sal and Twomile Creeks for those anglers who would like to harvest the occasional trout and/or use bait.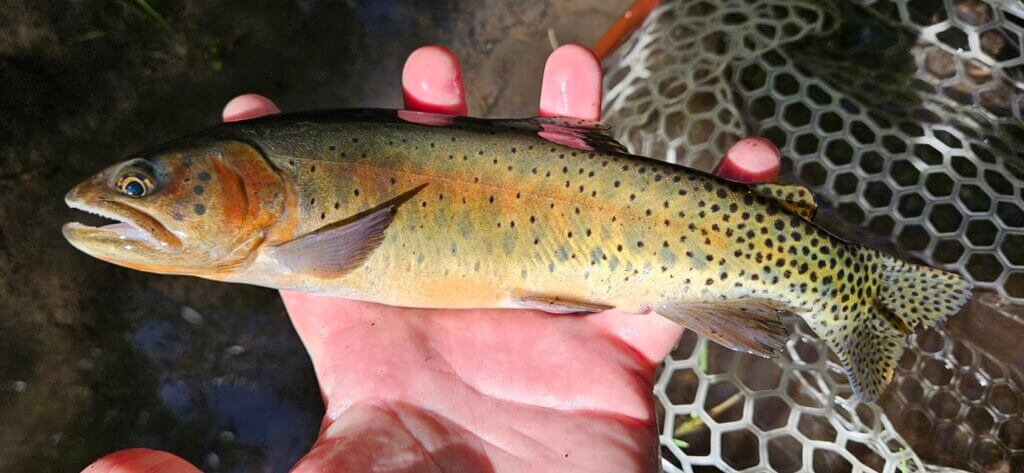 Sources:
https://cpw.state.co.us/Documents/Research/Aquatic/CutthroatTrout/Cuttthroat-Trout-Studies-Annual-Report-2020.pdf#search=san%20juan%20cutthroat
https://cpw.state.co.us/learn/Pages/ResearchGreenbackCutthroatTrout.aspx
https://www.ksl.com/article/6338134/greenback-cutthroat-found-in-utah-for-first-time
https://dwrapps.utah.gov/fishstocking/Fish
https://www.upr.org/environment/2019-03-08/beaver-creek-greenback-cutthroat-trout-on-wild-about-utah
https://www.nativetroutflyfishing.com/greenrivercutthroat.htm
https://archive.sltrib.com/article.php?id=50632061&itype=cmsid
https://wildlife.utah.gov/guidebooks/2023_fishing_guidebook.pdf